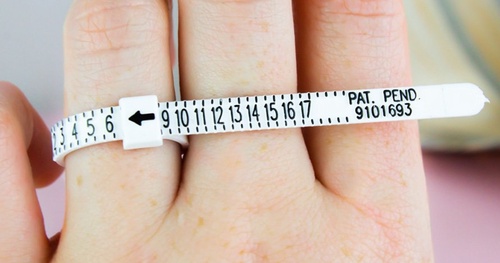 Title: Easily Find Your Perfect Ring Size with a Free Ring Sizer from Brilliant Earth
Introduction:
Finding the perfect ring is a special experience. Whether it's an engagement ring, a wedding band, or a meaningful piece of jewelry to commemorate a milestone, ensuring that it fits perfectly is essential. To help you on your quest for the perfect fit, Brilliant Earth is offering a fantastic opportunity – a Free Ring Sizer. With this handy tool, you can easily determine your ring size from the comfort of your own home. Keep reading to discover why this offer is too good to pass up!
Why is the right ring size important?
Wearing a properly sized ring is more than just a matter of comfort – it's crucial to prevent potential loss or damage. Too loose of a fit could lead to accidental slips and loss, while a ring that's too tight can be uncomfortable and restrict the blood flow in your finger. Achieving the perfect fit, however, can seem like a challenging task, especially when shopping online. Brilliant Earth understands this dilemma and is committed to helping you overcome it.
The Brilliant Earth Free Ring Sizer:
Introducing the Brilliant Earth Free Ring Sizer – a simple yet effective tool that allows you to accurately determine your ring size without leaving your home. This small but mighty device is designed to bring convenience and accuracy to your ring shopping experience. Here's how it works:
1. Request Your Free Ring Sizer: It's as easy as clicking on the link provided below to request your free Ring Sizer. Simply fill in your contact details, and the Brilliant Earth team will promptly send the Ring Sizer to your doorstep.
2. Receive Your Ring Sizer: Within a short time, you'll receive the Ring Sizer in a sleek and stylish package. Brilliant Earth takes pride in the quality of their products, and this Ring Sizer is no exception.
3. Measure Your Ring Size: Once you receive your Ring Sizer, follow the simple instructions included to measure your finger accurately. The Ring Sizer provides both US and international size measurements, ensuring compatibility no matter where you are in the world.
4. Find Your Perfect Ring: Armed with your accurate ring size, you can now confidently explore Brilliant Earth's exquisite collection of ethically sourced, sustainably made, and beautifully crafted engagement rings, wedding bands, and fine jewelry. Find the perfect piece that tells your unique story and celebrates your love.
Register Now:
Don't miss out on this incredible opportunity to claim your very own Free Ring Sizer from Brilliant Earth. Click on the link below to register and receive your Ring Sizer today. It's time to take the guesswork out of finding your ring size and ensure that your precious jewelry fits like a dream!
[Click Here to Register for Your Free Ring Sizer]
Final Thoughts:
With Brilliant Earth's commitment to ethically sourced and sustainable jewelry, combined with their dedication to offering a free Ring Sizer, there's no better time to embark on your search for the perfect ring. Experience the convenience, accuracy, and confidence that comes with knowing your ring size with the Brilliant Earth Free Ring Sizer. Register now and discover the world of exquisite jewelry waiting for you.
Note: TheFreebieGuy may earn a small commission via affiliate links in this post.
[Please Insert Link Here to Register for Your Free Ring Sizer]
Claim this great opportunity today.