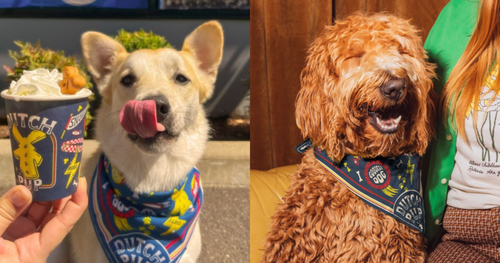 Title: Celebrate National Dog Day with Dutch Bros' Yappy Hour!
Introduction:
Are you a proud pet parent who loves to treat your furry friend to something special? Well, mark your calendars because Dutch Bros has something exciting in store for you and your loyal companion on National Dog Day! On August 26th, Dutch Bros is celebrating the occasion by hosting a 'Yappy Hour,' where you can score a free pet bandana with the purchase of any delicious drink. Get ready to pamper your furry friend and make lasting memories together!
Yappy Hour: A Paw-some Treat for Your Furry Friend:
National Dog Day is all about appreciating and celebrating our four-legged companions, and Dutch Bros understands this like no other. That's why on August 26th, from 3 pm onwards, they are bringing you 'Yappy Hour.' During this special time, when you grab any of their mouthwatering drinks, Dutch Bros will gift your furry friend a trendy pet bandana (while supplies last). It's the perfect accessory to showcase your pet's personality and show off your love for them!
Delicious Drinks to Quench Every Thirst:
Dutch Bros has become synonymous with top-notch beverages that leave your taste buds tingling with delight. From their signature specialty coffee creations to refreshing smoothies and flavorful teas, their menu is tailored to please every palate. Whether you're in the mood for a rich and bold coffee, a creamy iced drink, or a fruity concoction, Dutch Bros offers a wide range of delightful options to satisfy your cravings. And with every drink purchase, your furry friend gets a stylish, free bandana – it's a win-win!
Unleash the Celebration at Dutch Bros:
Beyond the promise of free bandanas, Dutch Bros offers an upbeat and lively environment where you and your furry friend can bond, socialize, and have a blast. Their friendly staff and welcoming atmosphere make Dutch Bros the perfect destination to celebrate National Dog Day. So, grab your furry buddy, head to your nearest Dutch Bros location, and immerse yourself in a lively ambiance filled with drinks, good company, and happy barks – it's an experience you won't want to miss!
Register and Never Miss a Treat:
National Dog Day festivities at Dutch Bros are just around the corner. Don't miss out on this incredible opportunity to pamper your loyal companion with a one-of-a-kind bandana and delicious drinks. To stay up-to-date with all the latest promotions, events, and exclusive offers from Dutch Bros, make sure to register now! Join our mailing list and be the first to receive exciting updates, discounts, and news – because every pet deserves to be part of the Dutch Bros family.
Conclusion:
As August 26th approaches, make sure to mark your calendar and prepare to celebrate National Dog Day in style at Dutch Bros' 'Yappy Hour.' Treat yourself to a delightful drink and your furry friend to a trendy pet bandana. Don't forget to register to stay in the loop about future promotions, events, and exclusive offers from Dutch Bros. It's time to raise a toast to our loyal companions and create unforgettable memories together! Join us at Dutch Bros for an unforgettable experience – don't miss it!
Claim this great opportunity today.