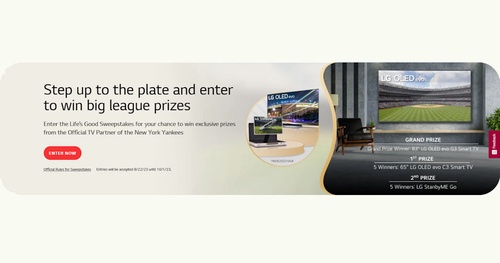 Title: Enter the LG Life's Good Sweepstakes and Upgrade Your Entertainment
Are you ready to take your entertainment experience to the next level? LG has got you covered! Introducing the LG Life's Good Sweepstakes, where you have the chance to win fantastic prizes that will transform your home entertainment setup. Enter now for a chance to win an OLED TV or the incredible StandbyMe Go!
It's no secret that LG is a leader in innovative technology, and the LG Life's Good Sweepstakes serves as a testament to that. With a grand prize of an 83″ OLED G3 TV, you can create a home theater experience like no other. Picture yourself immersed in stunning visuals, vibrant colors, and breathtaking clarity. Bring movies, sports, and your favorite TV shows to life with this incredible piece of technology. Every evening will feel like a trip to the cinema!
But that's not all. LG also has some amazing first and second prizes up for grabs. Five lucky winners will receive a 65″ OLED C3 TV – perfect for upgrading your living room or bedroom with a stunning display. The OLED technology ensures that every image is reproduced with astonishing accuracy and detail, delivering an unparalleled viewing experience.
In addition, five second prize winners will receive the StandbyMe Go, an amazing portable device that provides entertainment on-the-go. Whether you're traveling, camping, or simply lounging in the backyard, the StandbyMe Go will keep you entertained with its crystal-clear display, impressive audio, and seamless connectivity. No more dull moments, wherever you are!
Now that you know the incredible prizes that await, it's time to join in on the excitement by entering the LG Life's Good Sweepstakes. The process is quick and easy, and you only have to do it once. Simply visit our website, fill out the registration form, and confirm your entry. Make sure to provide accurate contact information, as this is how we'll reach out to the lucky winners!
Imagine the envy of your friends and family when they see your new LG OLED TV or StandbyMe Go. You'll be the talk of the town, hosting movie nights, game days, and unforgettable gatherings in your home – all made possible thanks to LG's cutting-edge technology. Plus, with your new OLED TV, you can binge-watch your favorite shows like never before, immersing yourself in the action and drama like never before.
Don't miss out on this incredible opportunity! Enter the LG Life's Good Sweepstakes today for a chance to win the TV of your dreams or the ultimate portable entertainment device – the StandbyMe Go. Remember, the sweepstakes deadline is right around the corner, so make sure to register before 10/1. Let LG enhance your home entertainment experience and make every day a truly memorable one!
Upgrade your entertainment, upgrade your life. Enter the LG Life's Good Sweepstakes now and take your entertainment to a whole new level!
Claim this great opportunity today.