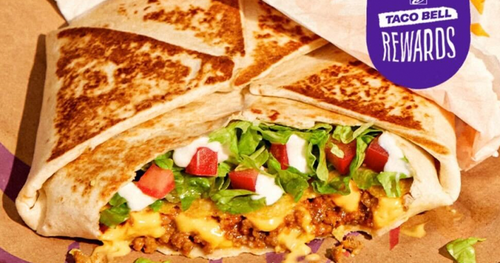 Title: Savor the Crunch: Get a $1.00 Crunchwrap at Taco Bell!
Introduction:
Are you a devoted fan of Taco Bell's mouthwatering Crunchwrap? Well, we have some fantastic news for you! Prepare your taste buds for an irresistible feast as Taco Bell is offering a tantalizing deal: a Crunchwrap for just $1.00! That's right – a delicious Crunchwrap that blends all your favorite flavors into a perfect, portable package. So, are you ready to dive into this sensational offer? Let's explore more!
The Perfect Treat: Taco Bell's Crunchwrap
If you've never experienced the scrumptiousness of a Crunchwrap, you're in for a treat! Picture this: a warm, grilled flatbread enveloping a medley of seasoned ground beef or marinated grilled chicken, accompanied by a layer of warm nacho cheese, crispy lettuce, juicy tomatoes, and a dollop of cool sour cream. All this goodness is then wrapped together into a unique hexagonal shape, providing a satisfying crunch with each bite. The Crunchwrap is truly a gourmet creation that instantly captivates your taste buds.
The $1.00 Crunchwrap: A Stellar Offer for Taco Bell Lovers
Now that we've ignited your appetite let's talk about the unbelievable deal offered by Taco Bell. For a limited time, you can relish the exquisite flavors of the Crunchwrap for only $1.00! It's an exceptional opportunity to indulge in this mouthwatering delicacy at an unbeatable price. Whether you're a lifelong Crunchwrap aficionado or a curious foodie eager to taste this culinary masterpiece, this promotion is too good to pass up.
How to Grab This Amazing Offer
To make the deal even sweeter, claiming your Crunchwrap for $1.00 is as easy as can be. Simply follow these simple steps:
1. Download the Taco Bell app: If you haven't already, head to your app store and download the Taco Bell app onto your smartphone.
2. Create an account: Open the app and create a Taco Bell account. Don't worry; it'll only take a few moments, and it's well worth it.
3. Stay tuned for the code drop: On August 29th at 5 pm EST, Taco Bell will release a limited number of codes for the free Crunchwrap within the app. Keep an eye on the app and be ready to claim your mouthwatering prize!
Remember, the offer is only available for the first 20,000 people, so make sure you're there as soon as the codes drop to secure your $1.00 Crunchwrap. You won't want to miss out on this incredible opportunity!
Take the First Bite and Register Now!
Don't let this incredible promotion slip through your fingers! Register today, download the Taco Bell app, and be ready for the code drop on August 29th, 2023. The $1.00 Crunchwrap is waiting to be savored, and you don't want to be left behind!
Join the legions of satisfied Crunchwrap enthusiasts who have fallen in love with Taco Bell's delectable creation. Don't wait – hurry up and register to secure your spot among the lucky 20,000 people who will enjoy this extraordinary offer. Trust us; your taste buds will thank you.
So, what are you waiting for? Get ready to bite into sheer perfection with Taco Bell's $1.00 Crunchwrap! Register now and satisfy your cravings with this unbeatable promotion. Your Crunchwrap adventure awaits!
Claim this great opportunity today.