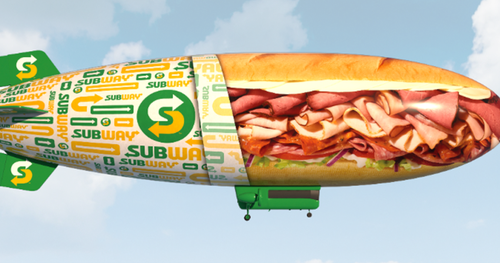 Subway in the Sky – Coming Soon
Okay. This is pretty cool! Subway in the Sky is coming soon! It's exactly what it sounds like! There will be 3 locations opening in September of 2023. If the areas are near you, you'll be able to check out Subway in the Sky, which is a new dining experience that will serve Subway's new innovative menu. Trust me, you don't want to miss out on this!
Imagine soaring above the city skyline, enjoying breathtaking views while indulging in a delicious Subway sandwich. It's a unique experience that combines the love for great food with the thrill of heights. This is not your ordinary Subway restaurant. This one is designed to take your dining experience to new heights, literally!
What can you expect from Subway in the Sky? Well, for starters, the menu will feature Subway's latest and most innovative creations. From mouthwatering sandwiches to fresh salads and irresistible sides, Subway in the Sky aims to provide customers with an elevated culinary experience.
But that's not all! In addition to the delicious food, Subway in the Sky will offer a truly mesmerizing ambiance. Picture yourself dining in a glass-enclosed pod, floating above the cityscape. As you enjoy your meal, you can gaze out at the twinkling lights of the city below or marvel at the breathtaking sunset spreading its vibrant colors across the horizon. It's an experience that will leave you awe-inspired while satisfying your taste buds.
So, how can you be a part of this incredible experience? Well, you don't have to wait any longer. We're giving you the opportunity to be among the first to visit Subway in the Sky when it opens its doors. By registering today, you'll secure your spot and receive exclusive updates about the grand opening and any exciting promotions or discounts that may be available.
Registering is easy! Simply fill out the form with your name, email address, and location. By doing so, you'll be added to the VIP list and will be among the select few who will have the chance to experience Subway in the Sky before anyone else.
Trust me when I say, this is an opportunity you don't want to miss. Subway in the Sky promises to redefine dining experiences and transport you to a world of culinary wonder. So, don't wait another moment. Take that leap and register today to secure your place in the sky!
Remember, Subway in the Sky is opening soon, so be sure to register now to be a part of this once-in-a-lifetime experience. Stay tuned for more updates and get ready to elevate your dining experience to new heights!
Click here to register and be part of Subway in the Sky!
Claim this great opportunity today.