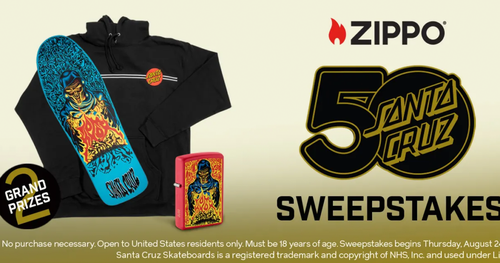 Zippo Santa Cruz Sweepstakes
Are you ready to win some amazing prizes? If so, then buckle up because we've got the perfect promotion for you! Introducing the Zippo Santa Cruz Sweepstakes, where you have a chance to win an incredible prize package that will make your day!
Here's what you need to know about this exciting sweepstakes. We are giving away two prize packages that include a set of one skateboard, one hoodie featuring the iconic Santa Cruz Dot, and one Knox Firepit Zippo Lighter that depicts the skateboard design. Imagine hitting the streets with a brand-new skateboard, rocking a stylish hoodie, and lighting up your life with a unique Zippo lighter – it's a dream come true for any skateboarding enthusiast.
But that's not all – we also have ten additional winners who will each receive one Knox Firepit Lighter. These lighters are not only practical but also a statement piece that will catch everyone's attention. With their sleek design and reliable functionality, you'll be the envy of your friends when you pull out your Zippo lighter.
So, how can you enter the Zippo Santa Cruz Sweepstakes and have a chance to win these incredible prizes? It's simple! All you need to do is follow a few easy steps. First, head over to our website and locate the sweepstakes page. Once there, you'll find a short entry form that you need to fill out with some basic information. Don't worry; we respect your privacy, and all your data will be securely stored.
After submitting your entry, you'll officially be in the running for these fantastic prizes. Make sure to keep an eye on your email because that's where we'll notify the lucky winners. Imagine the joy and excitement you'll feel when you receive that email announcing that you've won a Zippo Santa Cruz Sweepstakes prize pack or a Knox Firepit Lighter!
Not only do you stand a chance to win some amazing prizes, but you also get to experience the thrill of participating in a sweepstakes. It's an opportunity to embark on a new adventure and potentially change your life in a small yet meaningful way. With a little luck on your side, you could be the winner of a prize package that will bring endless joy and excitement to your life.
So, don't miss out on this incredible opportunity. Go ahead and register for the Zippo Santa Cruz Sweepstakes today! Who knows? Maybe YOU will be one of the lucky winners who gets to enjoy all the perks of this exciting promotion. Grab your skateboard, put on that Santa Cruz hoodie, and get ready for an adventure like no other with Zippo.
Claim this great opportunity today.