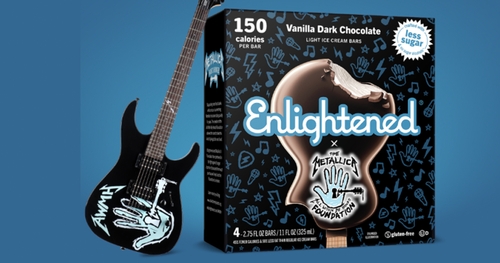 Enlightened x Metallica's AWMH Foundation Sweepstakes: Enter Now for a Chance to Win!
If there's one band that has defied the boundaries of music and stood the test of time, it's Metallica. With their thunderous riffs and powerful lyrics, they have become legends in the world of rock and roll. And now, they have joined forces with Enlightened, the deliciously innovative ice cream brand, to bring you an incredible opportunity that you won't want to miss – the Enlightened x Metallica's All Within My Hands Foundation Sweepstakes!
But before we dive into the details of this amazing sweepstakes, let's talk a bit about the All Within My Hands Foundation (AWMH). Founded by Metallica in 2017, AWMH is a non-profit organization that is committed to creating sustainable communities through the power of music. They support a variety of causes, including workforce education, the fight against hunger, and critical local services. By participating in this sweepstakes, you'll not only have the chance to win big, but you'll also be contributing to the incredible work that AWMH does.
So, what could you win in this exciting sweepstakes? Prepare yourself for some epic prizes! One lucky winner will receive a once-in-a-lifetime opportunity to meet Metallica backstage at one of their shows. Just imagine the thrill of getting up close and personal with the band that has inspired countless fans around the world. And that's not all – in addition to the meet and greet experience, the winner will also receive an exclusive Metallica merch pack, filled with limited-edition items that every true fan will envy.
But wait, there's more! In addition to the grand prize, twenty-five lucky runners-up will receive a limited-edition Metallica x Enlightened ice cream bundle. Indulge in the unique flavors created to honor the band and satisfy your cravings with every bite. From Ride the Lightning Mint to Master of Puppets Peanut Butter, each pint is a delicious tribute to Metallica's iconic discography.
Entering the sweepstakes is simple. All you have to do is visit the official sweepstakes website, provide your name and email address, and boom – you're in! You can enter once per day, increasing your chances of winning these exclusive prizes. Don't miss out on the opportunity to take home an unforgettable experience and amazing swag.
But even if you don't win, remember that the real prize is knowing that your participation supports the AWMH Foundation. By entering this sweepstakes, you are contributing to a foundation that is making a real difference in the lives of countless individuals.
So, what are you waiting for? Whether you're a long-time Metallica fan looking to meet your idols or an ice cream enthusiast eager to try the tasty creations from Enlightened, this sweepstakes is an absolute must-enter. Take a moment to join in this extraordinary collaboration between two icons and support AWMH's incredible work. Enter now and make a difference!
REGISTER NOW and seize the chance to win the Enlightened x Metallica's AWMH Foundation Sweepstakes!
Claim this great opportunity today.