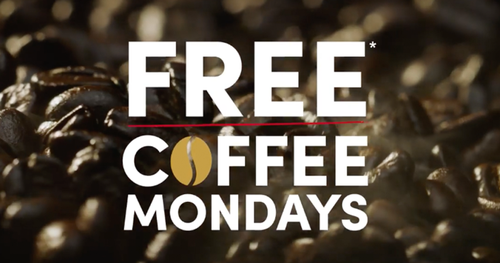 Title: Wake Up and Smell the Free Coffee at GetGo on Mondays!
Introduction:
As a coffee lover, you know that kick-starting your Monday mornings with a steaming cup of freshly brewed coffee can make all the difference. What if we told you that you could enjoy that perfect cup of coffee for FREE? Yes, you read that right! GetGo is offering a fantastic promotion where you can get a free self-serve hot or iced coffee every Monday. So, grab your favorite mug and get ready to savor the delicious, aromatic flavors you deserve.
GetGo: Your Go-to Coffee Destination:
GetGo is more than just your average convenience store – it's your one-stop-shop for all things coffee. With an extensive range of flavors, a variety of brews, and a commitment to quality, GetGo has become a go-to destination for coffee enthusiasts nationwide. Whether you're a fan of classic hot coffee, smooth cold brew, or the bold and rich flavors of Nitro – GetGo has it all!
Free Coffee on Mondays:
Mondays are already tough enough, but with this incredible promotion, they just got a whole lot better! GetGo is giving away free self-serve hot or iced coffee beverages in any size every Monday. This means you can choose your favorite style of coffee and enjoy it at absolutely no cost – it's the perfect way to start your week on a high note!
The options are endless – whether you prefer a robust black coffee to kickstart your day or a creamy, flavored latte to satisfy your sweet tooth, GetGo has got you covered. Don't forget to try their Nitro and cold brew offerings for a refreshing twist on your coffee routine. You'll be amazed by the range of flavors and the exceptional quality of their beverages.
How to Claim Your Free Coffee:
Getting your hands on a free cup of coffee at GetGo is a breeze. Simply head over to your nearest GetGo location, walk up to the self-serve coffee station, and fill up your cup. You can choose from an array of flavors and add-ons to make your coffee truly personalized. Just imagine indulging in that rich cup of coffee without spending a dime – it's an offer you simply can't resist!
Take Advantage of the Opportunity:
If you are a coffee lover and have a GetGo near you, this promotion is an absolute must-try! Imagine sipping on your favorite cup of coffee every Monday, completely FREE of charge. It's the perfect opportunity to discover new flavors, enjoy your all-time favorites, and start your week off right.
So, mark your calendars and make it a point to swing by your local GetGo every Monday. Don't let this incredible offer slip through your fingers – treat yourself to a delicious, top-quality coffee on the house!
Intrigued? Want to Indulge in Free Coffee?
If you love coffee and can't resist a good deal, head on over to GetGo and make Mondays your new favorite day of the week. Don't miss out on this generous promotion that allows you to enjoy the perfect cup of coffee without spending a cent. There's no better way to jazz up your Monday mornings than with a fresh, bold, and aromatic coffee from GetGo!
Register now to stay updated on exciting promotions, hot run deals, giveaways, and more! Registering is simple – just visit the GetGo website and enter your details to receive the latest news, offers, and exclusive perks. Discover the joy of free coffee and never miss out on another fantastic opportunity from GetGo.
Don't wait any longer – there's free coffee waiting for you at GetGo! Visit your nearest location and let the aroma of freshly brewed coffee awaken your senses and brighten your Mondays.
Claim this great opportunity today.