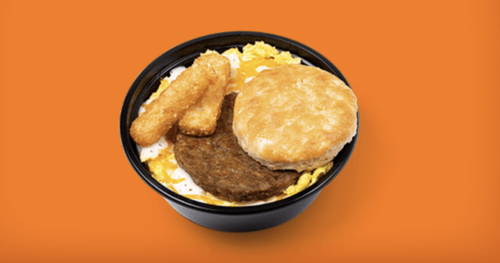 Free Breakfast Bowl at Whataburger
Are you a breakfast lover? Do you enjoy starting your day with a hearty and delicious meal? Well, we have some exciting news for you! Whataburger is offering a fantastic promotion that you won't want to miss out on – a 100% FREE Breakfast Bowl!
If you are lucky enough to have a Whataburger near you, you need to check your app (or download it if you haven't already). Right now, under the offers section, you may find an offer for a complimentary Breakfast Bowl. Yes, you read it right – FREE! And the best part? No purchase is required!
Imagine waking up in the morning, feeling hungry, and realizing that you can enjoy a mouthwatering Breakfast Bowl from Whataburger without spending a penny. It's the perfect way to kickstart your day and satisfy your cravings.
Now, let's talk about the Breakfast Bowl itself. This delectable creation from Whataburger is a blend of savory flavors that will leave your taste buds dancing with joy. Picture a bowl filled with fluffy scrambled eggs, perfectly seasoned breakfast sausage, crispy hash browns, and shredded cheese. It's a breakfast dream come true!
But here's the catch – this offer is not available to everyone. Whataburger is giving away these free Breakfast Bowls on a limited basis, so make sure to check your app and see if you have this incredible offer waiting for you. And if you don't have it yet, keep checking regularly because you never know when it might pop up!
The coupon for the free Breakfast Bowl is valid through September 11th, 2023, giving you plenty of time to redeem this mouthwatering treat. Whether you prefer to dine in or grab it to go, Whataburger has you covered. You can enjoy this promotion at participating Whataburger locations, so make sure to double-check if your nearest store is offering this deal.
Whataburger has always been committed to serving delicious, high-quality meals, and this promotion is just another testament to their dedication to customer satisfaction. They understand that a good breakfast sets the tone for the rest of the day, and they want to make sure you start your day off right.
So, what are you waiting for? Check your Whataburger app or download it now to see if you have the offer for a FREE Breakfast Bowl. Treat yourself to a delicious and hearty breakfast that will leave you feeling satisfied and ready to conquer the day.
Remember, not everyone will have this offer, but if you do, make sure to take advantage of it before it's too late. Start your day off with a scrumptious Breakfast Bowl from Whataburger – your taste buds will thank you!
Register or download the Whataburger app today and check for the FREE Breakfast Bowl offer. Don't miss out on this fantastic promotion!
Claim this great opportunity today.