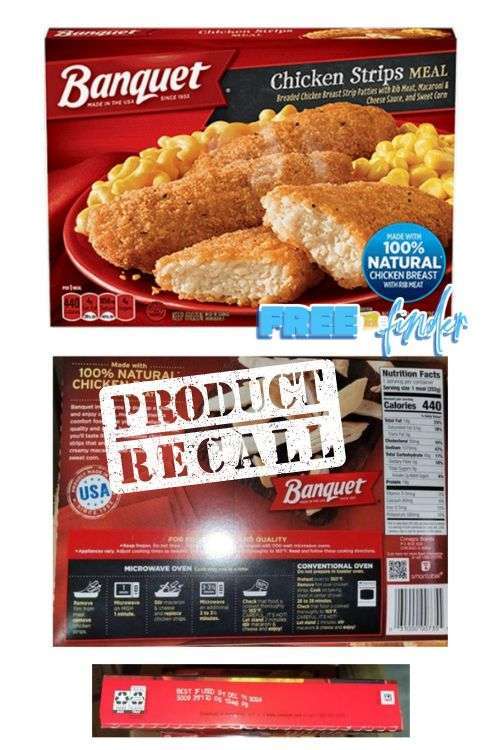 URGENT! Banquet Chicken Strips Recalled – URGENT! Banquet Chicken Strips Recalled
If you've purchased chicken, then don't miss this recall! Frozen chicken strips produced this year are subject to a nationwide recall. They could still be in your freezer, so take note and then go look! The USDA announced a new recall you should be aware of regarding Banquet chicken.
What's the recall about?
Banquet Foods, a well-known brand in the frozen food industry, has issued an urgent recall for their chicken strips. The recall is issued due to potential contamination concerns, as the chicken strips may contain pieces of metal or other foreign objects. This recall is a precautionary measure taken by the company to ensure the safety of consumers.
Why is this important?
Food recalls are taken very seriously, and for a good reason. Consumption of contaminated food can lead to serious health risks, including injury or illness. In this case, the potential presence of foreign objects in the chicken strips could pose a choking hazard or cause other injuries if ingested.
What should you do?
If you have purchased Banquet chicken strips recently, it is crucial to check your freezer for any products that fall under the recall. Look for the specific UPC codes and use-by dates listed on the Banquet Foods website or provided by the USDA. If you find any affected products, do not consume them. Instead, dispose of them properly or return them to the place of purchase for a refund.
How can you protect yourself?
Staying informed is key when it comes to food recalls. Here are a few ways to ensure you always stay updated:
1. Regularly check the FDA's and USDA's websites for any recall notices.
2. Sign up for email alerts from these organizations to receive recall information directly in your inbox.
3. Follow reliable news sources that often cover food recalls.
4. Keep an eye out for any news or reports related to product safety and alerts.
Why should you register?
By registering for recall alerts, you are taking proactive steps to protect yourself and your loved ones. You will receive immediate notifications when there is a recall, allowing you to take necessary actions promptly. Don't wait until it's too late! Stay informed and ensure your safety.
To register for recall alerts, simply visit our website and provide us with your contact information. By doing so, you are joining a community of people who prioritize their health and safety. Together, we can stay ahead of potential risks and protect ourselves from consuming contaminated food.
Don't delay – register today and make your safety a priority! Remember, information is power, so let us keep you informed about the latest recalls and product safety information. Your health and well-being are worth it!
Note: This blog post was written to raise awareness of the Banquet chicken strips recall. Dates and a link to register will be added at the appropriate time.
Claim this great opportunity today.