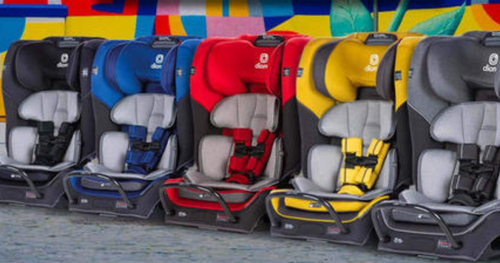 Title: Diono Safety Month Sweepstakes: Your Chance to Win Big this Safety Month!
Introduction:
Attention parents and caregivers! Safety is paramount when it comes to our little ones, and what better time to ramp up our efforts than during Safety Month! Diono, a trusted brand dedicated to keeping your children safe on the road, is thrilled to announce the Diono Safety Month Sweepstakes. This is your opportunity to win amazing prizes that will further ensure your child's safety and make those family adventures even more enjoyable. Read on to find out everything you need to know about this exciting giveaway!
Why Safety Month Matters:
When it comes to the safety and well-being of our children, there is no compromise. Safety Month serves as a timely reminder to reevaluate and enhance our safety measures, whether at home or on the road. As a devoted parent, you understand the importance of investing in the highest-quality safety products on the market.
About Diono:
Diono has been a trailblazer in the child safety industry for over two decades. Their mission is to provide innovative and reliable products designed to give parents peace of mind while on the go. With an extensive range of car seats, strollers, and accessories, Diono is committed to keeping your little ones safe and comfortable during every journey.
Diono Safety Month Sweepstakes:
To celebrate Safety Month, Diono has organized an exciting sweepstakes that presents you with an excellent chance to win incredible prizes. By entering this sweepstakes, you'll have the opportunity to snag some of Diono's most popular and sought-after products, ensuring your child travels in comfort and safety every single time.
Prizes Worth Winning:
We know you're eager to find out what you stand to win in the Diono Safety Month Sweepstakes. While we can't reveal the specific prizes in this blog post, we assure you that they are nothing short of fantastic! Diono has handpicked prizes that align perfectly with their dedication to child safety and your desire for convenience. Rest assured that the prizes will not disappoint, leaving you and your little ones thrilled and ready for your next family adventure.
How to Participate:
Participating in the Diono Safety Month Sweepstakes is simple! [To enter, visit our website and fill out the registration form.] Provide us with a few details, and you'll be officially entered for a chance to win these amazing prizes that will enhance your child's safety and comfort while traveling.
Spread the Word:
If you're as excited about this sweepstakes as we are, why not share the news with your friends, family, and fellow parents? Let them know about this incredible opportunity to win Diono's top-notch safety products and make their little one's journey even more secure. Together, we can create a community focused on safety and support.
Conclusion:
Safety Month is the perfect time to reinforce our commitment to keeping our children safe and secure. Diono understands this better than anyone and is excited to offer you the chance to win outstanding prizes in their Safety Month Sweepstakes. Don't miss out on this unique opportunity! Register now for your chance to bring home the latest innovations in child safety from Diono and embark on a worry-free journey with your little ones!
Claim this great opportunity today.