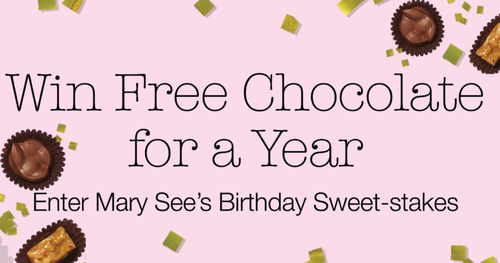 Mary See's Birthday Sweet-stakes – A Celebration of Deliciousness!
Hey there! Are you ready to indulge in a sweet sensation unlike any other? Well, get ready to satisfy your sweet tooth because Mary See's Birthday Sweet-stakes are finally here! It's time to celebrate in style!
For those who haven't yet had the pleasure of tasting the delectable creations from Mary See's, you're in for a real treat! Mary See's has been crafting mouthwatering chocolates and confections for over a century. With their unparalleled dedication to quality and flavor, they have become synonymous with the art of fine chocolate.
Now, imagine this: the aroma of rich, smooth chocolate wafting through the air, the sound of crunching caramel, and the explosion of flavors as you take your first bite. It's a sensory experience that can only be described as pure bliss.
To mark this special occasion, Mary See's is hosting an extraordinary promotion – Mary See's Birthday Sweet-stakes! This is your chance to win some seriously indulgent goodies that will make your taste buds dance with joy. But wait, it gets even better – we're giving you the opportunity to register for this mouthwatering sweepstakes today!
So what can you expect from Mary See's Birthday Sweet-stakes? Oh, just a chance to win a year's supply of chocolate! Yes, you read that right – a WHOLE YEAR of heavenly treats delivered straight to your doorstep. Imagine the excitement of receiving a delightful package filled with heavenly sweets every month. It's like Christmas morning, except all year round!
But the rewards don't stop there. Oh no! Mary See's has cooked up even more delicious surprises for the lucky winners. From luxurious chocolate gift baskets to exclusive limited-edition flavors, every prize will leave you craving for more!
Now, you're probably thinking, "How can I get in on this incredible Sweet-stakes?" Fear not, my fellow chocolate enthusiasts, because registering is as easy as taking that first bite of a decadent truffle.
All you have to do is visit our website and fill out a simple form with your name and contact details. That's it! Once you've registered, your name will be entered into the drawing for a chance to win these incredible prizes. It's your golden ticket to a year filled with chocolatey bliss!
And the best part? You can share this delightful opportunity with your friends and family too! Let them know about Mary See's Birthday Sweet-stakes, so they can join in on the chocolate extravaganza. After all, chocolate is always better when shared with loved ones!
So what are you waiting for? It's time to click, register, and embark on a journey of pure indulgence. Don't miss out on this exceptional chance to win a year's supply of Mary See's delectable treats and an array of other chocolate-inspired delights. Register today and get ready to celebrate Mary See's Birthday Sweet-stakes in style!
Remember, life is too short to resist the allure of fine chocolate. Give in to your cravings and let Mary See's take you on a tantalizing adventure of flavors. The Sweet-stakes await your entry, and the dream of a year's supply of chocolate can become a reality.
Click here to register now and unlock the door to a world of sweetness. May luck and chocolate be with you!
Claim this great opportunity today.