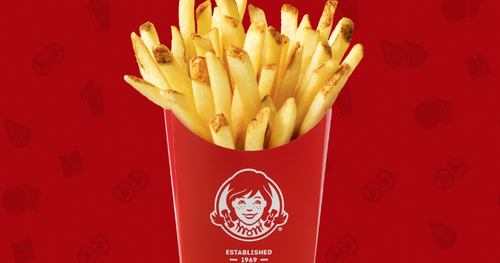 Title: Unleash Your Cravings with Wendy's Irresistible Offer!
Intro:
Calling all food lovers and savvy deal hunters! We have an irresistible promotion that will set your taste buds tingling and your wallet rejoicing. Wendy's, the home of juicy burgers and mouthwatering fast food favorites, is currently offering a sizzling deal that will make your next visit an absolute winner. Prepare to indulge in a FREE ANY SIZE French Fry and enjoy a fantastic 50% off on Kids Meals with any purchase. Trust us, it's a HOT WENDY'S DEAL you won't want to miss!
Exceptional Offer:
Picture this: you walk into your favorite Wendy's restaurant, place your order, and while waiting for your delicious meal, you're handed a generous serving of crispy, perfectly seasoned French fries, absolutely FREE – regardless of the size you choose! That's right, any size you desire is on us. It's an exclusive offer that sets Wendy's apart from the competition. So why not treat yourself to this lip-smacking side dish as a complimentary delight alongside your main course?
But wait, there's more! Not only can you savor the incredible free French fry offer, but you can also enjoy a fantastic 50% discount on any Kids Meal purchase. Bring along your little ones or even indulge in a nostalgic meal yourself – we won't tell! Delicious food at affordable prices? It's a deal that's hard to resist!
Participating Locations:
Before your taste buds go into overdrive, remember that this exciting offer is valid at participating Wendy's locations. Be sure to check if your nearest Wendy's restaurant is included, so you can take full advantage of this incredible promotion. Trust us, you won't want to miss out!
Convenient Ordering Options:
To unlock this amazing deal, simply sign up for Wendy's rewards and place your order online or through the Wendy's mobile app. It's that simple! Enjoy the convenience of browsing the menu from the comfort of your own home, customizing your order to perfection, and securing your free ANY SIZE French fry and 50% off Kids Meal with ease.
A Call to Action:
So what are you waiting for? Treat yourself to a truly satisfying meal experience at Wendy's and enjoy the ultimate indulgence of FREE ANY SIZE French fries. Plus, don't forget the incredible 50% off on Kids Meals with any purchase! Register for Wendy's rewards today, order online, or through the app, and unlock these exclusive offers.
Say goodbye to bland and ordinary fast food and say hello to Wendy's, where taste and value come together like never before. Embrace this limited time offer and let Wendy's take your cravings to a new level. Hurry and register now – your palate will thank you!
Note: The free fries are available for a limited time only. Don't miss out on this incredible offer. Register now and reap the benefits!
Claim this great opportunity today.