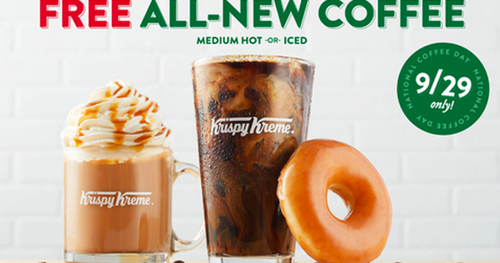 Title: Celebrate National Coffee Day with a Free Medium Hot or Iced Coffee at Krispy Kreme!
Introduction:
Calling all coffee lovers! Mark your calendars for an exciting event on September 29th – National Coffee Day! On this special occasion, renowned doughnut and coffee chain, Krispy Kreme, is offering a delightful treat that will perk up your day. Get ready to indulge in a free medium hot or iced coffee – and the best part? No purchase is required!
Unveiling a Delectable Offer:
Krispy Kreme is renowned for its mouthwatering doughnuts, but did you know they also serve a mean cup of joe? On September 29th, the beloved bakery and coffeehouse giant is treating its loyal customers to a free medium hot or iced coffee. That's right; you can enjoy your favorite coffee, prepared exactly the way you like it, without spending a dime!
A Caffeinated Celebration:
National Coffee Day is a celebration of all things coffee-related, from the rich aroma to the bold flavors that awaken our senses. Krispy Kreme is passionate about providing the perfect cup of coffee to complement their delectable doughnuts. What better way to celebrate this coffee-centric holiday than by savoring a cup of Krispy Kreme's irresistibly smooth and flavorful coffee?
No Strings, Just Sips:
Unlike many promotions that require a purchase to unlock a free item, Krispy Kreme's National Coffee Day offer comes with no strings attached. Simply walk into any participating Krispy Kreme location on September 29th, and you'll be treated to a free medium hot or iced coffee. It's a fantastic opportunity to experience the quality and taste of Krispy Kreme's signature coffee at no cost.
Double the Delight:
But wait, it gets even better! In addition to the complimentary medium coffee, Krispy Kreme is also offering an exclusive deal on their iconic Original Glazed Doughnuts. When you purchase any dozen doughnuts, you can indulge in a dozen Original Glazed Doughnuts for just $2 extra. This incredible offer ensures that your National Coffee Day celebration is twice as sweet!
Join the Celebration:
Don't miss out on this fantastic opportunity to enjoy a free medium hot or iced coffee from Krispy Kreme. Mark your calendars and invite your friends and family to join in the National Coffee Day celebration at your nearest Krispy Kreme location. Whether you prefer the comforting warmth of a hot cup of coffee or the refreshing coolness of an iced coffee, Krispy Kreme has got you covered!
Register* Today:
To stay up-to-date on the latest promotions, events, and exclusive offers from Krispy Kreme, register* now! By joining our mailing list, you'll receive exciting updates straight to your inbox. Don't miss out on future opportunities to satisfy your coffee and doughnut cravings while enjoying fantastic deals.
Conclusion:
National Coffee Day is just around the corner, and Krispy Kreme is gearing up to make it a memorable one. Set a reminder for September 29th and head to your nearest Krispy Kreme location to enjoy a free medium hot or iced coffee – no purchase required. Immerse yourself in the rich flavors and comforting warmth of Krispy Kreme's exceptional coffee as you celebrate this beloved holiday. Remember to register* today to receive further updates and exclusive offers from Krispy Kreme. Cheers to National Coffee Day and spreading joy in every sip!
*Registration link to be added.
Claim this great opportunity today.