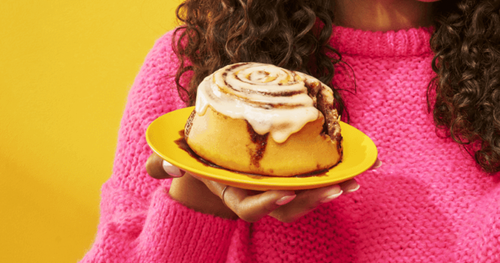 Title: Enjoy a Sweet Treat: BOGO Baked Goods at Cinnabon!
Introduction:
Indulging in mouthwatering baked goodies is always a delightful experience. If you're a fan of heavenly cinnamon delights and delectable pastries, we have an amazing offer that you won't be able to resist. Cinnabon, the home of irresistible cinnamon rolls, is treating its customers to an incredible promotion – buy one, get one free on their delectable baked goods! Read on to find out how you can savor these heavenly treats without breaking the bank!
Celebrate Deliciousness with BOGO Baked Goods:
Cinnabon is renowned for its unmatched expertise in creating heavenly baked goods that leave your taste buds craving more. From their iconic Cinnamon Rolls, featuring the perfect blend of cinnamon and cream cheese icing, to their delectable pastries and mouthwatering bites, Cinnabon knows how to satiate your sweet tooth cravings.
For a limited time, from now until October 8th, 2023, you can take advantage of their exclusive BOGO offer and enjoy twice the deliciousness at no additional cost. What better way to treat yourself or surprise a loved one than with a warm, gooey Cinnabon cinnamon roll or any of their other delectable treats?
How to Redeem the Offer:
To enjoy this enticing promotion, simply download the Cinnabon app and head over to the rewards section. You'll find the BOGO offer waiting for you, ready to be claimed and savored. However, please keep in mind that this offer is only valid at participating Cinnabon locations. To avoid any disappointment, make sure to check if your local store is participating before planning your visit.
Experience the Cinnabon Magic:
If you've never had the pleasure of sinking your teeth into a Cinnabon creation, you're in for a real treat. Known for their commitment to quality ingredients and dedication to perfection, Cinnabon's baked goods are a taste sensation you don't want to miss. Each bite is a flavorful journey that transports you into a world of tempting aromas and sweet satisfaction.
So, whether you're a cinnamon lover, a pastry enthusiast, or simply someone with a huge appetite for all things delicious, this BOGO offer at Cinnabon is your golden ticket to a truly delightful experience. Don't miss out on this amazing opportunity to enjoy your favorite Cinnabon treats alongside a friend, loved one, or even just yourself.
Conclusion: Treat Yourself to Cinnabon's BOGO Offer Today!
Indulging in a warm, gooey Cinnabon treat is the ultimate sweet escape. With their limited-time BOGO offer on baked goods lasting until October 8th, 2023, there's no better time to satisfy your cravings and indulge in a little guilt-free pleasure. Don't let this delicious deal pass you by!
Download the Cinnabon app and head over to the rewards section to claim your BOGO offer. Remember to check if your nearest Cinnabon location is participating, and then treat yourself to a heavenly delight that will leave you craving more.
Don't miss out on this opportunity to double the deliciousness. Grab your free baked goods from Cinnabon today and experience pure bliss in every bite!
Claim this great opportunity today.