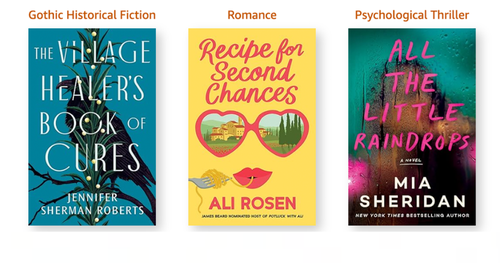 Title: Discover the Perks of Amazon First Reads: Free Kindle Books for Prime Members!
Introduction:
Are you an Amazon Prime member? If so, we have exciting news for you! Today, we're here to introduce you to Amazon First Reads, a program that allows Prime members to score two FREE Kindle books every month. Even if you're not a Prime member, you can still get these amazing reads for a mere $1.99 each. It's an unbeatable offer that avid readers won't want to miss out on!
Unleash Your Inner Bookworm with Amazon First Reads:
As a marketing professional, it's my pleasure to bring you this incredible opportunity to indulge in your love for reading. Amazon First Reads, previously known as Kindle First, offers early access to new books across various genres. Whether you're a fan of gripping thrillers, heartwarming romances, fascinating non-fiction, or mind-expanding science fiction, there's something for everyone to enjoy.
With Amazon First Reads, you get to choose two books from a curated selection each month before they are released to the general public. It's like being a tastemaker in the literary world, getting the chance to delve into captivating stories before anyone else. Imagine the excitement of discovering a new favorite author or immersing yourself in a gripping plotline before anyone else has even heard of it!
How It Works:
Signing up for Amazon First Reads couldn't be easier. If you're an Amazon Prime member, you're already eligible to join. Simply visit the Amazon First Reads page and browse through the monthly selection of books. You'll find a delightful range of titles from bestselling authors, emerging voices, and unique new perspectives.
Once you've made your selection, the chosen books will be automatically delivered to your Kindle device or app on the first day of the next month. And the best part? These books are yours to keep forever, adding to your personal library without any additional cost.
Not a Prime Member? Not a Problem!
If you're not already a Prime member, you can still participate in Amazon First Reads for a nominal fee of $1.99 per book. However, consider the benefits of being a Prime member. Alongside access to Amazon First Reads, Prime offers numerous perks, such as fast and free shipping, exclusive deals, access to Prime Video and Music, and much more. The value of Prime extends far beyond just reading, making it a worthwhile investment for anyone who loves convenience and entertainment.
Don't Miss Out on this Incredible Offer:
So, whether you're a Prime member or considering becoming one, now is the time to take advantage of this fantastic deal. Claim your two FREE Kindle books each month through Amazon First Reads and embark on literary adventures that will captivate your imagination.
To get started, visit [registration link] and dive into a world of unlimited possibilities. Join the legions of thrilled readers who have already discovered the joys of Amazon First Reads. It's a win-win situation either way, so why wait? Grab your free Kindle books today and let your imagination soar!
Happy reading!
[registration link]
Claim this great opportunity today.