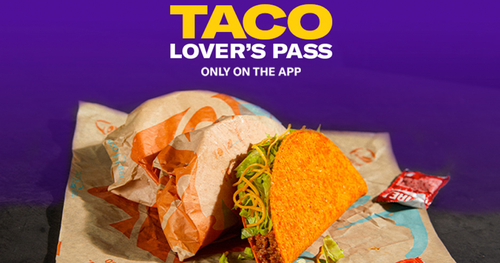 Possible Free Taco Lover's Passes Today from Taco Bell!
As a devoted taco lover, there's nothing quite as exciting as National Taco Day. It's the perfect opportunity to indulge in delicious tacos and celebrate our love for this iconic Mexican dish. And guess what? Taco Bell might just have an incredible surprise in store for all of us!
Rumors have been circulating that Taco Bell will be giving out FREE Taco Lover's Passes today! Can you believe it? Just the thought of unlimited tacos for a whole month is enough to make any taco fanatic's heart skip a beat. Taco Bell has recently released codes that were valid for the first 50 lucky individuals. But the fun doesn't stop there! They might have more codes up their sleeve, so keeping an eye on their Twitter page could land you this amazing opportunity.
Now, you might be wondering, what exactly is a Taco Lover's Pass? Well, let me break it down for you. The Taco Lover's Pass is a magical pass that entitles you to one free taco every single day for an entire month. Yes, you read that right – unlimited tacos! Just imagine sinking your teeth into a delicious Crunchy Taco, a mouthwatering Soft Taco, or even one of their famous Doritos Locos Tacos, every single day. It's taco heaven!
Imagine the possibilities of having a Taco Lover's Pass in your possession. No more worrying about what to have for lunch or dinner. No more draining your bank account on your taco cravings. With the Taco Lover's Pass, you can satisfy your taco addiction without putting a dent in your wallet. It's a dream come true for any taco enthusiast.
But here's the catch – these passes are limited. So, it's time to act fast! Keep a close eye on Taco Bell's Twitter page for any updates or new codes. Turn on those notifications and be ready to pounce when the opportunity arises. Sign up for their newsletter, follow their Instagram, do whatever it takes to make sure you don't miss out on this incredible chance.
To make the deal even sweeter, Taco Bell often comes up with innovative and mouthwatering new taco creations. From their cheesy Quesarito to their fiery Diablo Sauce, they continuously surprise us with their bold and unique flavors. With the Taco Lover's Pass, you'll have the opportunity to explore their menu, try new recipes, and expand your taco horizons.
So, my fellow taco aficionados, the time has come to take action! Don't miss out on this opportunity to score a Taco Lover's Pass and enjoy a month full of free tacos. Keep a close eye on Taco Bell's Twitter page and be ready to redeem those codes. It's National Taco Day, and this could be the ultimate gift to yourself as a true taco lover.
Register now for the chance to secure your Taco Lover's Pass and experience taco bliss like never before. Your taste buds will thank you, and your devotion to tacos will reach new heights. Get ready to savor the flavors, indulge in the goodness, and be the envy of all your taco-loving friends. Don't wait another second, register now!
The post Possible Free Taco Lover's Passes Today from Taco Bell! appeared first on The Freebie Guy®.
Claim this great opportunity today.