Hurry, and get a FREE Pint of Ben & Jerry's Punch Line Ice Cream, from Netflix Is a Joke, Delivered to You!
Right now, Ben & Jerry's and Netflix Is a Joke (show) is offering a brand new flavor of their Ice Cream – Punch Line – Delivered straight to you … available in limited quantities.
Supplies are Very Limited – and You need to check DAILY to see if the Scoop Shop is Open via their Punchline Hotline.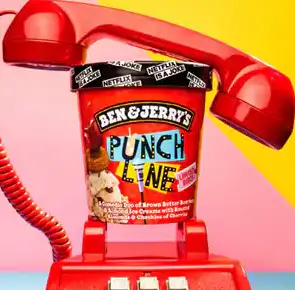 How to Get Your

FREE Ice Cream. 
Call 1-866-PUNCHLINE (786245463) – on a mobile phone
Press 2
If the Scoop Shop is Open, they will send you an immediate text to the number (mobile) you are calling from
In the text msg there will be a 4 digit code and a link
Follow the link – it brings you to the official page/order form.
Input the code they sent along with your info
Check your email, you will get a confirmation with all the info you need concerning the Pint of Ice Cream they will actually mail out to you – or Delivered! (yes … Ice Cream, not a voucher).
If the Scoop Shop is NOT Open anymore for that day …
it's OK. Try Back the Next Day!! Keep trying. …
They will be going until December 26th!
And giving away 1,000 Pints each weekly period. (4,000 total)
US Only, 18+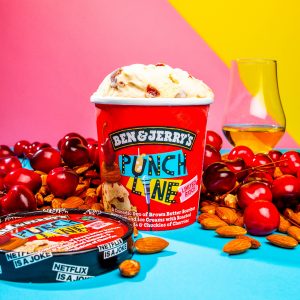 About Ben & Jerry's Punch Line Ice Cream:
A Comedic Duo of Brown Butter Bourbon & Almond Ice Creams with Roasted Almonds & Chuckles of Cherries
Netflix takes comedy as seriously as we take making ice cream. But neither of us takes ourselves too seriously, and here's a punchy flavor to prove it! We recommend pairing this lickable libation with any Netflix stand-up special, sitcom, or funny movie. Netflix is a Joke, but this limited-batch flavor isn't!
From Ben & Jerry's …. About the Punch Line Ice Cream Hotline and Promotion:
Have you ever wished for a joke or a laugh on a moment's notice? Well, what an insane coincidence – look no further!
Introducing the Punch Line Hotline, presented by Ben & Jerry's and Netflix is a Joke.
We've joined forces to bring you a one-two punch of comedic bedazzlement for both your taste buds and your LOLs: NEW Punch Line ice cream AND the Punch Line Hotline!
Call 1-866-PUNCHLINE for yummy jokes and funny ice cream! No joke.
That's right! While you're digging into your totally hilarious Punch Line pint, dial-up for delicious laughs featuring Netflix comedy royalty: Wanda Sykes, Fortune Feimster and Aparna Nancherla.
What did the Bourbon say to the Almonds? Why do they call them 'sweatpants'? What did the ice cream say to the comedian? Knock-knock, who's there? Call now!!
Operators are not standing by, but the comedy pros are delivering the punch lines!
– Click Link BELOW IMAGE For FREEBIE Offer! –

Thank you from the Freebies Frenzy team!