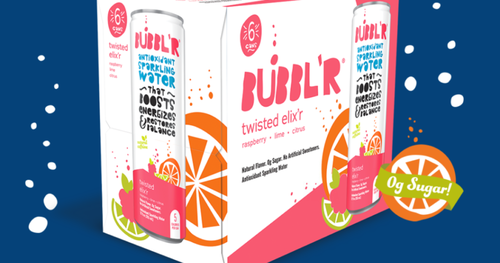 Title: Discover the Refreshing Taste of BUBBL'R – Get Your Free 6 Pack Today!
Are you a fan of bubbly drinks that quench your thirst and provide a burst of flavor? Look no further! BUBBL'R has just the right fizz and taste to satisfy your cravings. And the best part? You can get a 6 pack of BUBBL'R completely free with our exciting rebate offer!
Imagine enjoying the crisp and refreshing bubbles of BUBBL'R without spending a dime. Thanks to this limited-time promotion, you can savor the goodness of BUBBL'R completely free of charge. Here's how it works:
Step 1: Purchase a 6 pack of BUBBL'R at any retailer nationwide. Keep the receipt handy as it will be necessary to claim your rebate.
Step 2: Visit our rebate portal to initiate the process and redeem your offer. Our user-friendly platform ensures a hassle-free experience.
Step 3: Provide the required information, including your contact details and a scanned copy of your purchase receipt. Rest assured, your personal details will be handled with utmost confidentiality.
Step 4: Choose your preferred reimbursement method – Venmo or Paypal. Ensuring a seamless process, we will transfer the entire purchase amount to your chosen account.
Step 5: Sit back, relax, and await the reimbursement. Once your submission is verified, we will promptly process your rebate, leaving your wallet untouched!
BUBBL'R offers a tantalizing range of flavors to elevate your drinking experience. Whether you are a fan of the classic fruit flavors like Pineapple Passion or prefer something more exotic like Watermelon Wave, BUBBL'R has got you covered. The delicate balance of fruity goodness mixed with the perfect amount of carbonation makes BUBBL'R a top choice for satisfying your thirst.
But why stop at one flavor when you can try a variety of them? With your free 6 pack of BUBBL'R, you have the opportunity to sample multiple flavors and find your favorite – without spending a dime! Treat yourself or surprise your friends with a delightful assortment of delicious and refreshing BUBBL'R beverages.
Don't miss out on this incredible chance to grab your free 6 pack of BUBBL'R. Our rebate offer is available for a limited time, so act now! This is an opportunity to enjoy the taste of BUBBL'R for free while discovering which flavors leave you craving for more.
Ready to embark on a delicious tasting journey? Purchase your 6 pack of BUBBL'R today and head over to our rebate portal to claim your reimbursement. With just a few simple steps, you can relish the invigorating taste of BUBBL'R without worrying about the price tag.
Visit our website now to access the rebate portal and set off on your exciting BUBBL'R experience. Remember, this offer won't last forever, so don't miss out!
[banner image – showcasing various BUBBL'R flavors]
Register for your free 6 pack of BUBBL'R now and enjoy the effervescent taste sensation that awaits you!
Claim this great opportunity today.