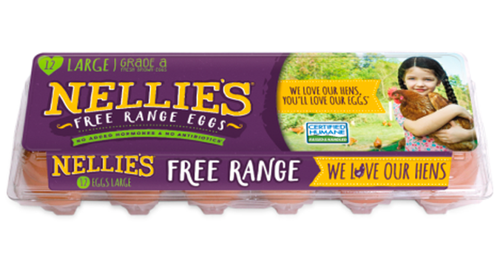 Title: Discover the Delicious Freedom with Nellie's Free Range Eggs!
Introduction:
Are you a fan of healthy eating and quality ingredients? If so, we have an exciting promotion that you won't want to miss! Nellie's Free Range Eggs, known for their commitment to ethical and sustainable farming practices, is offering a fantastic opportunity for you to receive their delicious eggs for free. Sign up today with Social Nature and stand a chance to win a box of these amazing eggs. Don't wait – take this chance to elevate your breakfasts to a whole new level!
Delighting Your Taste Buds:
At Nellie's, the welfare of their hens is as important as the amazing eggs they produce. Their eggs come from happy, healthy hens that are given the freedom to roam and forage in spacious, open pastures. This unique approach to raising hens ensures that their eggs are packed with wholesome goodness and unparalleled taste. Now, you have the opportunity to experience the exceptional flavor and quality of Nellie's Free Range Eggs for yourself!
Why Nellie's Free Range Eggs:
1. Ethical and Sustainable Farming: Nellie's goes far beyond the industry standard when it comes to animal welfare. Their hens are given plenty of space to roam and live in comfortable, natural environments. This free-range approach leads to healthier hens, superior eggs, and a positive impact on the environment.
2. Nutrient-Rich and Tasty: Nellie's eggs are a treasure trove of essential nutrients including vitamins, minerals, and high-quality proteins. With their vivid yolks and firm whites, Nellie's Free Range Eggs are a culinary delight that can take your favorite recipes to new heights.
3. Supporting the Farmer Community: By choosing Nellie's Free Range Eggs, you are supporting a network of small family farmers who share the same passion for ethical farming. These farmers are dedicated to providing the best care to their hens and ensuring that you receive the freshest and most flavorful eggs.
Claim Your Free Nellie's Free Range Eggs:
To be considered for this fantastic freebie, sign up for Social Nature if you haven't already. Social Nature is an incredible platform that connects you to natural, organic, and eco-friendly products. Once you're signed up, simply select "I Want It" for the chance to receive a box of Nellie's Free Range Eggs absolutely free!
Remember, this is an opportunity to taste and experience the exceptional quality of Nellie's Free Range Eggs for yourself. Don't miss out on this limited opportunity to add a touch of farm-fresh excellence to your daily meals.
Conclusion:
Nellie's Free Range Eggs with Social Nature is offering you the chance to receive and savor the delicious taste of these high-quality eggs completely free of charge. Don't wait another minute – sign up for Social Nature today, select "I Want It," and be one step closer to enjoying the finest eggs nature has to offer. Give yourself the gift of Nellie's Free Range Eggs and discover the freedom of delectable flavors. Register now and welcome a healthier, tastier breakfast into your life!
Claim this great opportunity today.