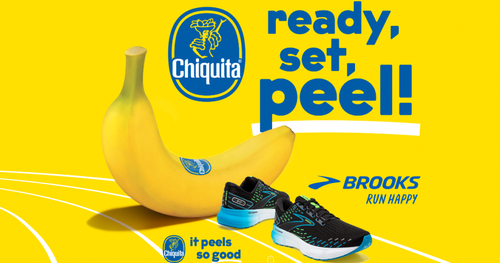 Introducing the Chiquita Ready Set Peel Campaign
In a fast-paced world where convenience is key, finding quick and easy ways to enjoy healthy snacks has become a top priority for many. Luckily, Chiquita is here to make your snacking experience even better with their exciting Ready Set Peel campaign. Get ready to discover an innovative way to peel, enjoy, and savor the deliciousness of Chiquita bananas!
Bananas have always been a go-to snack for people of all ages. They are packed with essential nutrients, such as potassium, fiber, and vitamins, making them a healthy and convenient choice. However, peeling a banana can sometimes be a hassle, especially when you're on the go or in a rush. That's where Chiquita comes in to save the day!
With the Chiquita Ready Set Peel campaign, you can now experience the joy of effortlessly peeling a banana. The campaign introduces a revolutionary technology that simplifies the peeling process like never before. It's designed to provide an easy and convenient way to enjoy your favorite fruit and fuel your day with goodness.
Imagine having the freedom to enjoy a perfectly peeled banana anytime, anywhere. Whether you're at work, school, or out for a hike, Chiquita's innovative solution ensures that you can enjoy your snack without any inconvenience. No more struggling with peels that won't come off smoothly or accidentally squishing the fruit inside. With Chiquita Ready Set Peel, every bite is as effortless as it should be.
But that's not all! Chiquita is also inviting you to register for this exciting campaign to become a member of a community dedicated to effortless peeling. By registering, you will gain access to exclusive updates, promotions, and early bird opportunities to experience the Ready Set Peel campaign firsthand.
Joining the Chiquita Ready Set Peel community means you'll never miss out on the latest news and developments. Get the chance to be among the first to try out new products, receive special discounts, and even participate in exciting contests. Who knows, you might even win some amazing prizes along the way!
With the Ready Set Peel campaign, Chiquita is taking the banana eating experience to a whole new level. Say goodbye to the struggles of peeling and hello to effortless snacking. It's time to embrace the convenience and joy that come with Chiquita's innovative solution.
So what are you waiting for? Join the Chiquita Ready Set Peel campaign today and become part of a community that celebrates the simplicity of enjoying a perfectly peeled banana. Don't miss out on this opportunity to be a part of something great – register now and get ready to experience banana bliss like never before!
Remember: Life's too short to struggle with peeling bananas. Choose Chiquita Ready Set Peel and enjoy convenience at your fingertips.
Claim this great opportunity today.