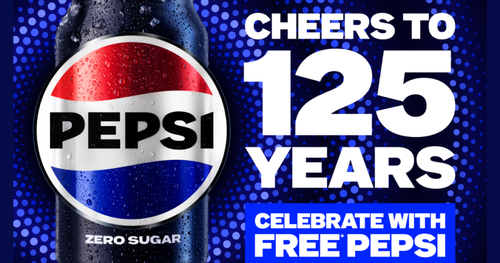 Free PEPSI After Rebate – Want to score a FREE Pepsi?! Here is your chance with the rebate offer directly from PEPSI!
Whether you're a loyal fan of Pepsi or just looking to quench your thirst, this promotion is not one to be missed. For a limited time, you can enjoy a refreshing Pepsi drink without spending a dime. That's right – with the PEPSI rebate offer, you can get a FREE Pepsi after rebate!
So, how does it work? It's simple! All you have to do is text "PEPSI125" to 81234 to receive the exclusive offer. Once you've done that, you'll be on your way to enjoying a Pepsi on the house.
This incredible offer gives customers the opportunity to receive up to a $2.50 rebate on qualifying Pepsi purchases made between 8/28/2023 – 9/4/2023. Whether you prefer to shop online or visit your favorite retail store or restaurant, this rebate applies to purchases made from both online retailers and in-store locations.
Imagine yourself at your favorite restaurant, enjoying a delicious meal with friends or family. What better way to complete the experience than with a cold, refreshing Pepsi? With this rebate offer, you can indulge in the mouthwatering taste of Pepsi without worrying about the cost.
If that's not enticing enough, think about those moments where you just need a little pick-me-up during the day. Imagine reaching into your fridge and grabbing a chilled can of Pepsi, knowing that it didn't cost you a single penny. It's the perfect way to treat yourself while staying refreshed and hydrated.
Now, you might be wondering why PEPSI is offering such an amazing deal. Well, they understand that their loyal customers, like you, deserve something special. What better way to show their appreciation than by offering a FREE Pepsi? It's their way of saying "thank you" for your continued support.
The best part is that taking advantage of this promotion is as easy as sending a quick text message. Simply text "PEPSI125" to 81234, and you'll receive all the details you need to redeem your rebate offer. It's a hassle-free process that anyone can easily participate in.
Don't miss out on this opportunity to enjoy a FREE Pepsi after rebate. Make sure to mark your calendars and set a reminder to take advantage of this promotion between 8/28/2023 – 9/4/2023. Text "PEPSI125" to 81234 today and get ready to indulge in the refreshing taste of Pepsi without spending a dime.
Remember, this offer won't last forever, so don't wait too long. Grab your phone and send that text message now. Treat yourself to a free Pepsi and discover why it has been the go-to choice for millions of loyal fans around the world. Cheers to enjoying the simple pleasures in life – with a FREE Pepsi in hand!
To register for the PEPSI rebate offer, text "PEPSI125" to 81234 now!
Claim this great opportunity today.