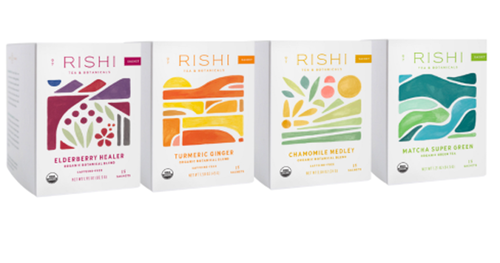 Title: Discover the Pure Bliss of Organic Rishi Tea with Social Nature
Are you tired of the same old tea brands that lack the vibrant flavors you deserve? Look no further! We have an amazing offer that will tantalize your taste buds and introduce you to the world of Organic Rishi Tea – for FREE!
Yes, you heard it right. This is your chance to enjoy the incredible goodness of Organic Rishi Tea without spending a single penny. But how is this possible? Social Nature has partnered with Rishi Tea to bring you this exclusive promotion that will elevate your tea-drinking experience to a whole new level.
If you haven't heard of Social Nature before, get ready to be impressed! Social Nature is a unique online platform that connects eco-conscious brands, like Rishi Tea, with individuals who appreciate and prioritize sustainable and organic products. By signing up as a member, you gain exclusive access to a plethora of freebies, discounts, and product trials across various categories.
But let's get back to the star of our show – Organic Rishi Tea. Crafted with care, each tea blend from Rishi is made using only the finest organic ingredients sourced from around the world. From rejuvenating green teas to soothing herbal infusions, Rishi Tea offers a wide range of flavors that will tantalize your taste buds and provide a moment of pure bliss in every sip.
Now, you must be wondering how you can be a part of this fantastic freebie opportunity. It's simple! If you're not already a member of Social Nature, head over to their website and sign up. Embrace the eco-conscious community and discover new brands committed to the health of both people and the planet.
Once you've become a member, navigate to the Rishi Tea promotion and select "I Want It" to be considered for this incredible freebie. Imagine the delight of receiving an email notifying you that you've been chosen to receive a sample of Organic Rishi Tea. Trust us, opening your mailbox to find a package of delicious, high-quality tea will be an experience you won't soon forget!
Furthermore, Social Nature encourages members who receive free samples to share their thoughts and experiences on their platform and across social media. Your genuine feedback helps brands like Rishi Tea continue to develop amazing products that cater to our desires and preferences.
So, what are you waiting for? Take this opportunity to embark on a journey of flavor and experience the delights of Organic Rishi Tea. Sign up with Social Nature today, select "I Want It" for the Rishi Tea promotion, and keep your fingers crossed for a chance to receive this fantastic freebie.
Indulge in the rich, organic aroma. Savor the vibrant, natural flavors. Immerse yourself in the goodness of Rishi Tea – all for free! Register now with Social Nature and be part of a thriving community committed to living sustainably and discovering extraordinary products.
Don't miss out on this incredible chance to enjoy Organic Rishi Tea at no cost to you. Join Social Nature today and be on your way to receiving your very own sample of these exquisite teas. Your taste buds will thank you!
Claim this great opportunity today.