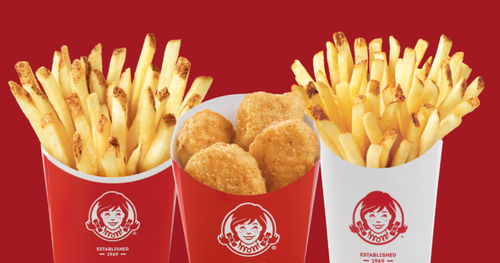 Title: Satisfy Your Cravings with Free Fries & 99¢ Nuggets at Wendy's!
Are you ready to indulge in a delicious meal without breaking the bank? Look no further because Wendy's has got you covered with an incredible offer! For a limited time only, you can enjoy the mouthwatering combination of ANY size fries and 4PC chicken nuggets for just 99 cents when you make a purchase!
Wendy's has always been known for its high-quality and tasty food, and this promotion takes their offerings to a whole new level. Imagine sinking your teeth into a piping hot, golden crisp fry, perfectly seasoned to perfection. And paired with their juicy, tender chicken nuggets, it's a match made in fast food heaven!
To take advantage of this amazing deal, all you need to do is download the Wendy's App or head over to their website. Once there, navigate to the 'Rewards Store' section, where you will find the irresistible freebies waiting for you. Oh, did we mention that it's available for any size fries? That means you can go all out and satisfy your hunger with the biggest serving imaginable!
But remember, this offer won't last forever. Mark your calendars because October 16th is the last day to claim your freebie. So, why wait? Don't miss out on this fantastic opportunity to treat yourself to a delicious meal at a fraction of the cost!
By registering for this promotion, you not only get to enjoy the unbeatable flavor combination of fries and nuggets but also gain access to future Wendy's offers and rewards. It's a win-win situation, so grab your smartphone or head to your desktop, and register today!
Indulging in your favorite fast food has never been easier or more affordable. Wendy's has made it simple for you to satisfy your cravings and enjoy a delightful meal without straining your wallet. Take advantage of this fantastic promotion before it's too late!
So, what are you waiting for? Download the Wendy's App or visit their website now to claim your free ANY size fries and 99¢ 4PC nuggets with a purchase. Remember, this offer ends on October 16th, so don't delay! Treat yourself and keep an eye out for more exciting offers from Wendy's in the future.
Register now and savor the unbeatable taste of Wendy's fries and nuggets – the perfect comfort food combination that will leave you coming back for more!
Claim this great opportunity today.