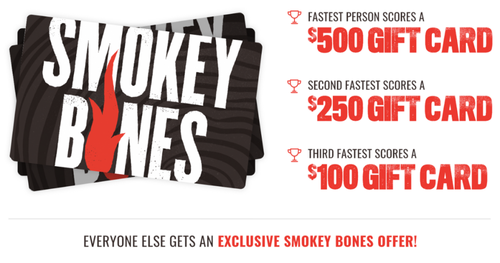 Smokey Bones Quikly Sweepstakes – Head's Up!
Are you ready for an exciting opportunity to win some amazing prizes? Well, we have just the thing for you! Introducing the Smokey Bones Quikly Sweepstakes, where you have the chance to score fantastic rewards just by being quick on your feet.
Here's how it works: at approximately 3 pm EST, we will be sending out Quikly text links. The catch? You have to be one of the fastest three people to click the link and claim your spot. If you're among the first three, you'll instantly win a gift card that you can use at any Smokey Bones location. Isn't that exciting?
But don't worry, even if you're not one of the lucky three, you still have a chance to win. Participants who aren't in the top three will receive a special discount coupon. You'll get $5 off a $20 purchase, which means you can enjoy more of our delicious menu items for less. And if you want to go all out, there's an even better offer: $10 off a $40 purchase. That's more mouthwatering food for a fraction of the price!
Now, you're probably wondering how you can get in on the action. It's simple! All you have to do is register for the promotion. Just imagine, a few quick clicks could be your ticket to winning big at Smokey Bones. With the holidays right around the corner, wouldn't it be incredible to have some extra cash to treat yourself or your loved ones to a hearty meal?
Smokey Bones has always been known for its delicious BBQ, fantastic drinks, and a warm, inviting atmosphere. And now, with the Quikly Sweepstakes, we're giving you even more reasons to love us. Whether you're a long-time fan or looking to try our mouthwatering dishes for the first time, this promotion is the perfect opportunity to experience the best of what Smokey Bones has to offer.
So, are you ready to take part in the Smokey Bones Quikly Sweepstakes? Register now for your chance to win incredible prizes. Remember, the three quickest participants will receive gift cards, and everyone else will receive exclusive discounts on their next visit. There's something for everyone to enjoy!
Don't miss out on this thrilling opportunity. Set an alarm, mark your calendar, or do whatever it takes to be at the forefront of this exciting promotion. Get ready to claim your spot and win big at Smokey Bones!
Register today and keep an eye out for the Quikly text links. The sooner you click, the greater your chances of being among the lucky winners. We can't wait to see you at Smokey Bones, enjoying our mouthwatering BBQ with your well-deserved prizes in hand.
What are you waiting for? Register now and get ready for an unforgettable experience at Smokey Bones!
Claim this great opportunity today.